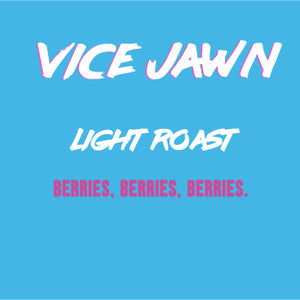 Vice Jawn Blue
Regular price $ 14.99 Sale
We get a lot of requests for berries. 
I will say that I've heard you like berries. 
So I'm putting berries in your berries. 
I'm leaving the meme heading for jokes sake. The real on this coffee is it's allows me to sell a natural year round because we can stock different smaller bags year round. Eventually wholesale gets washed and washed ethiopians can be fun but people really miss this style when it's gone. Since my labels are setup the way they are and I didn't want to buy a label printer and do our style for astronomical rates I created "vice jawn". I think it should be "vice blue" in hindsight so at the very least expect a change of some kind. I might even just change the name. 
Why did the updated thing go away? Because it's a pain to update this marginally every few months. Right now I've got 5 coffees behind the one in there that are super similar. Do I really need to say I updated this? I guess that's the point. It's a single origin but not. And some people really hate if I don't put what farm is on there. That said this is my business and I hate these coffee's I have to explain anymore.  I found that we went deep into the weeds trying to one up ourselves and while it's been fun I'm done explaining this and everything else. 
It's berries.
You like berries.
So you get a berry coffee from us that's exceptionally high quality and that's vice blue.