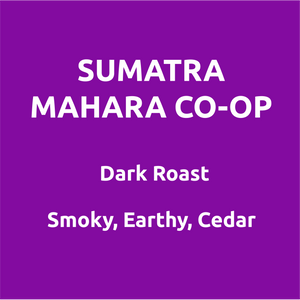 Sumatra Mahara Co-op
Regular price $ 12.99 Sale
This is a pretty "strong" coffee. Sumatra's especially wet hulled ones tend to become that across the board when roasted dark. It's kind of the thing they're desired for similar to how if you drink and Ethiopian usually you want the tea like aspects.  
There's an audience for this that is rather large as the green lady has gone hardcore on making Sumatra's the familiar taste to their roast profiles across the board. They tend to take the heat And retain some nuance compared to most any origin.  Due not because Sumatra's are superior but due in most part because of the processing followed up by decent elevation, and industry investment. Take all that as you will but it's not for everyone. If you don't like dark roasts, don't buy this and don't complain to me about it. If you only drink dark roasts and clown on light drinkers know that I don't really care about that either.  I buy the best available in season and this was. 
Being a dark roast there's a lot of smoky stuff occurring. You'll run into earthy but not vegetal stuff too. Cedar pops in as is expected for us at least.  Great for espresso drinks.