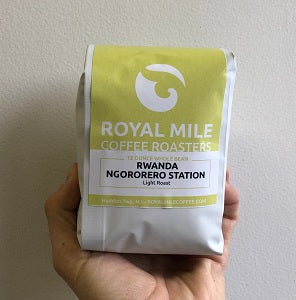 Rwanda Ngororero Station Dry Process
Regular price $ 13.99 Sale
This coffee is cool for 2 main things, to me at least. 
I'm sure someone somewhere had a DP (as we in the trade refer, hur hur) Rwandan so I'll say that this is the first I've ever seen in the 5 years I've been doing this. Dry Process as a method to extract coffee from the cherry exist at numerous origins but for Rwanda, it's only ever been washed. To me, that's cool and I want to try what it like. How does it compare to other naturals (also another dumb trade term destroyed by marketer's and manipulated to seem like something else), does it present with the same blueberry notes of Ethiopia and other origins? 
This brings the 2nd cool thing. It does not. And further it's not fermenty which is basically the note I always get in any natural at this point. It's just varying degree's of tolerance on my part with the sub drama that any ferment is actually a bad thing I waded into while having a discussion at origin. Yikes!  So, this coffee is cool because it's not strawberries or blueberries. It's berry like to be sure, but more prune and I know exactly what you're thinking with that notes but rest assured it's without grandma's knowing glare and "back in my dayism's". How did they even exist without internet reviews? Good lord!  In any case this is one of my wordy style writings on a coffee but please don't take that as this coffee is lacking. It's got it where it counts and if this year's crop is anything like what we are to see in the future I'll be damn sure to buy a lot more. I love this coffee.