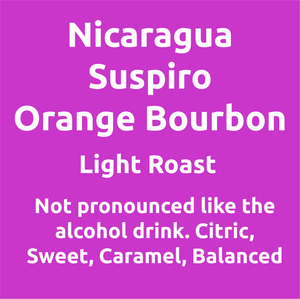 Nicaragua Suspiro Orange Bourbon
Regular price $ 15.50 Sale
I speak of the Mierisch quality a bit whenever in the cafe and sometimes here. Orange bourbon are one of those coffees they sort of are "known" for along with Yellow Pacamara. And similar to the Pacamara's you may not see the appeal I do. To me this is one of the great cups of coffee. What is great to you? What is great to me? Putting on my self-confidence hat I can be the best judge of that and I'll say it's great. Now for you who may like the funky fruits or the berrys or rich chocolates or smokey and that is amazing and the greatest, it's not those.
For me the quality of this cup is outstanding with everything in balance. Rich body, solid finish, sparkly acidity, citric tones are there but don't scream oranges. There's a nice pleasing sweetness to the cup that feels just right. Unlike many coffees from this covid era, quality has been a supreme issue Ive faced. And that comes out in sorting, as of the batches I've done no real prevalence of quakers which Im loving and a reminder to the Mierisch attention to quality in the entire process that shines on these really good coffees.  This will hang around for a little bit so if it goes out of stock just check back on Sunday and it will be back.

Also it's pronounced Bore-bone. Not like the drink.
10oz.