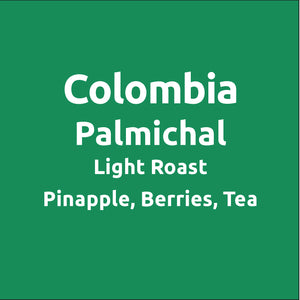 Colombia Palmichal
Regular price $ 13.49 Sale
It's pronounced "pal" "mi" "shall".  So meet my pal mi-shall.  This is a silly aside but when i was younger I managed a luggage store. One of the employee's was this older lady who would drone on and on about her daughter in law as if she was some prized possession.   Her name was "mi-she".  Given my 2 years managing that store and hearing story upon story I never wanted to hear the trauma of that name has resonated across decades and made me hesitant to buy this coffee. 
Story time over.
Names be damned this coffee was nice.
I haven't treaded much into carrying coffee from Colombia for no good reason recently so this was an effort on my part. I liked this option because it was pretty complex and really juicy. Our central/south selection has been pretty square in the caramel and chocolate arena so taking a slight deviation from the rest was welcome in my book. We had options like that so if you hate this, blame me. This is similar in a way to the Tanzania we're carrying and probably worthwhile trying next to one another to see how the citric present's itself across continent's. In general expect: nectarine and tea. 

Coffee buying asides: this is a coffee our importer buyers year after year so expect this to come back as we develop this relationship (or so is my hope).