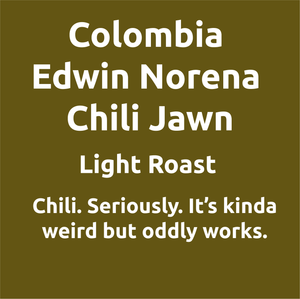 Colombia Edwin Norena Chili Jawn
Regular price $ 22.00 Sale
This coffee is all kinds of wild. It's got a bunch of processing such as honey and the new mossoto thing I don't quite understand and have been too lazy to look up. Sorry. I don't have a gigantic amount to speak about this coffee other than it's one of those things producers are doing wherein before the coffee is processed they add something. Like it or not (I do) it's becoming a thing. We had the galaxy hop geisha and  now the chili coffee. I swear it tastes a lot o like chili but a good coffee. Not flavored. Fuck flavored coffee in everyday. This is good coffee with a taste note of chili and I like that a lot. The future of coffee here. And I'm being totally hyperbolic. 
Very limited. Once it's sold out it's gone for good.  Please don't be a jerk and buy two because it's rare. 
Also! Since I need to do these things because I feel like a jerk when I let people down, this coffee is fun and weird. I'm very happy to try it and to be a roaster that buys and sells it. It's not for everyone. It's not this high end washed bergamot thing. It's just a producer doing some funky stuff with his coffee cherry and we get to taste bleeding edge coffee's. I liked the galaxy hop better but! This is still good.