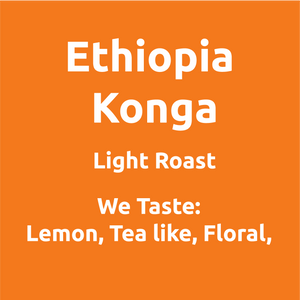 Ethiopia Yirgacheffe Konga - Washed
Regular price $ 13.50 Sale
The Konga is back.  Konga is a "brand" of coffee out of Ethiopia because as a country they invested heavily in their product similar to how Colombia did. It's also a coffee that everyone (myself included) makes/made dumb King Kong jokes too. Wakka wakka we're all original.  What stuck out from years past is that you can run into a type of coffee that kind of tastes bradnded in that it's "one" thing forever and ever. This one kind of is but it's also super top shelf. Not the coffee of the year but it hit's all the high end notes and moves all the craft coffee gears in our heads.  For those that like it when I go big on coffee's this is one. All the tastes notes are basically what you expect ramped up to 8 or 9's across the board. Floral, Tea, lemon, clean, sweet etc etc. It's awesome. 
Previous review that maybe doesn't hold up but is useful.
The Konga is a nice pleasing Yirg we brought in that isn't so out of reach financially to wholesale while still getting a super solid offering out to places that take a bit of a cut for us. I won't say it's the greatest Yirg we've had but it certainly ranks amongst the others for balance. Everything about it is about a 7 on a scale of 10. Slightly fruity, slightly floral, nice body, slightly clean finish - things like that. If I'm underselling it please know I'm not trying to, it's just one of those transparency things I feel I need to do when roasting and selling coffee at times. 
All that out of the way it's a good late season offering and this coffee should hang around until about Mid May when new Ethiopians start landing again. A solid end to the 17/18 coffees as we get into 18/19 coffee's!